MetalMouth can exclusively reveal that Headbangers Balls is here to show cancer who has the biggest balls.
This ambitious tour is being organised by Andy Pilkington, Reign of Fury's manager, and Steve Shaw their PR partner and will be visiting the UK's major cities, ending with an all-day event in Birmingham, the home of heavy metal.
The Headbangers Balls tour and its associated buzz is designed to raise awareness for testicular cancer, with every penny of profit going to Teenage Cancer Trust, a charity that is very close to our hearts." And we are delighted to announce that MetalMouth are partnering with them to help support this worthwhile cause.
The idea stems from UK Metal band REIGN OF FURY, after vocalist Matt 'Bison' Steed was diagnosed with testicular cancer. He was treated at Warwick Hospital, where he had surgery to remove the tumour (and the testicle), which was replaced with a prosthetic one. Bison was told that the surgery had been a success, but that he would need to undergo a course of intensive chemotherapy as a preventative measure, given that the type of cancer (seminoma) had a fairly high chance of spreading and reoccurring.
Driven by this life changing experience, Bison and his band mates are going to do something they wouldn't have felt possible before – something that will help others who've been touched by it.
By combining an event for both established and unsigned rock bands, with every penny going to the Teenage Cancer Trust, Bison can turn his brush with cancer into something very, very positive. And hopefully encourage others to do so along the way.
Andy Pilkington, Reign of Fury's manager commented "There are few communities more male orientated than the Heavy Metal music scene, and even fewer with such an 'infallible' and testosterone driven image. Very little has been done to tackle awareness amongst this group and we believe that approaching this from the inside is the best way to get under the skin of what can be a very impenetrable genre.
I'm hoping what we're doing can help bring back the the sense of community in a music scene that's lost some of its brotherhood over the years as the grass roots bands struggle to break out from their local areas through lack of support."
"We are planning to play 10 Cities in the UK throughout July/Aug, hosted by only the most loved and respected rock and metal venues." He continued, "REIGN OF FURY will invite local unsigned metal bands to each show, with an aim to attract figurehead bands from each area to head up the shows". And such bands have already come forward to show their support with I AM I, XENTRIX and BULL RIFF STAMPEDE already confirming their involvement."
Steve Shaw from Intune PR added
"Our plans for the Birmingham event are to look at a higher capacity venue than the ones played on the tour and hold an all day festival with a bigger band line up. We already have the commitment of a full filming crew for this event. We are looking at several established bands to headline the line-up as well as offering them the chance to come along, be interviewed and get involved to show their support for the TCT.
The outlook for getting some well-known acts down to the event looks very good, judging from the early response. Dates for the tour will follow soon but the cities we will be visiting include London, Manchester, Glasgow, Cardiff, Exeter, Newcastle, Liverpool, Leeds and Birmingham"
"The Headbangers Balls tour is being planned as an annual event. This will give unsigned local bands the chance to gain more media attention and attract more fans while doing something worthwhile. The metal genre has too many stigmas attached to it, too many unfair judgments. This event will help show that the metal community is one of loyalty, brotherhood, generosity, positivity and heart".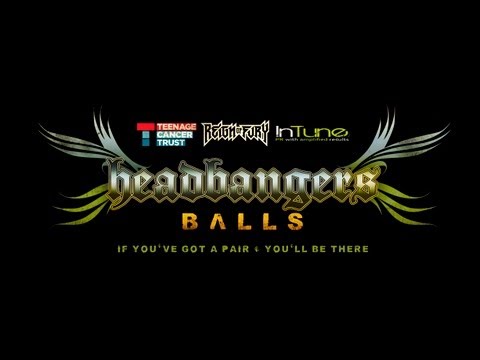 We will make sure to keep updating you on this very admirable quest  and for other ways to keep in touch, make sure to check out the following links. Now go forth and spread your balls.
Official website: www.headbangersballs.co.uk
Facebook community: www.facebook.com/headbangersballsUK

#showusyourballs https://twitter.com/HeadbangBalls

Reign of Fury: www.reignoffury.co.uk