A new lyric video for the track "No Lungs To Breathe," which was made by the band's guitarist Nick Hipa, is now live in conjunction with the band's North American tour with The Devil Wears Prada.
Just before "AWAKENED" dropped via Metal Blade Records on September 25th, the band released their first production video for the album for the track "A Greater Foundation."
Fans instantly took to the Internet to express their love of the new song ˆ AND to discuss the relevance of the lyrics. Check out the video and comments HERE.
"AWAKENED," which Rick Florino from Artist Direct called "…their best album yet," noting "it's a high water mark for modern metal, and it's going to wake up the entire genre" giving the release 5 out of 5 stars, debuted on the Billboard Top 200 Albums chart at #11, selling over 28,000 copies in its first week in the US alone.
For their latest release, "AWAKENED," As I Lay Dying ˆNICK HIPA (guitar), TIM LAMBESIS (vocals), JORDAN MANCINO (drums), PHIL SGROSSO (guitar) and JOSH GILBERT (bass)ˆholed up in the Blasting Room in Fort Collins, CO with renowned rock producer Bill Stevenson (Descendents) and mixer Colin Richardson. The group's last LP, 2010s "THE POWERLESS RISE," debuted on the Billboard Top 200 at #10, at #2 on Billboard's Independent Albums Chart and #3 on Billboard's Hard Music Albums Chart.
Check out the lyric video for "No Lungs To Breathe" here: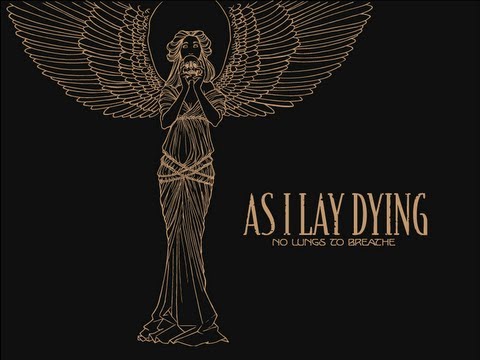 Keep up to date with As I Lay Dying at the following locations:
http://www.asilaydying.com  |  http://www.facebook.com/asilaydying  |  Metal Blade Records