Trollfest, Norway's self-styled purveyors of 'True Norwegian Balkan Metal,' have digitally re-released albums published between 2005 and 2009.
They also took the opportunity to announce a tour of the US and Canada, which will take place in November.
The albums getting the digital treatment are 2005′s Wilkommen Folk Tell Drekka Fest, 2006's Brakebein and 2009's Villanden, as well as the Uraltes Elemente EP, which was also originally released in 2009.
The band explained their reasoning behind re-issuing their back catalogue:
"We have made a huge number of new fans over the past three or four years, and we get so many requests for the old releases. Fortunately the digital platform makes it possible for us to release them without having to incur the costs related to producing CD or vinyl copies, so releasing them digitally ourselves makes sense."
The records are available to purchase directly from the band's Klicktrack store.
Trollfest have just celebrated their tenth anniversary with the release of a limited edition 12" disc A Decade of Drekkadence which contains sixteen tracks worth of new and unreleased material spanning the bands entire career, as well as three covers (including songs from Tom Waits and Britney Spears). This album is available exclusively from this location. A video for the Britney Spears track Toxic can be seen here.
If Britney Spears covers aren't your thing, you can also stream Trollfest's entire show at the Karmoygeddon Festival in March of this year: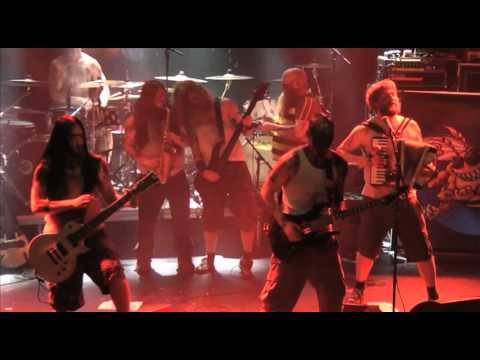 In addition to this, there are ten tracks available to stream from Trollfest's Soundcloud:
The band are currently in Endre Kirkesola's Dub Studio in Oslo, recording their sixth full-length album which will be released on NoiseArt Records.
November will see Trollfest return to the USA and CANADA for a 24-date tour supporting Alestorm. Also on the bill will be Pasadena's Gypsyhawk.
Tour Dates:
Nov 11 Santa Ana, CA – Yost Theater
Nov 12 Tempe, AZ – Rocky Point Cantina
Nov 13 Las Vegas, NV – LVCS
Nov 14 San Francisco, CA – Thee Parkside
Nov 15 Portland, OR – Hawthorne Theatre
Nov 16 Seattle, WA – El Corazon
Nov 17 Vancouver, BC – Funky Winkerbeans
Nov 18 Calgary, AB – Republik
Nov 19 Regina, SK – The Exchange
Nov 20 Winnipeg, MB – Zoo Cabaret
Nov 22 Chicago, IL – Reggie's
Nov 23 Westland, MI – Token Lounge
Nov 24 Cleveland, OH – Peabody's
Nov 25 Columbus, OH – Shrunken Head
Nov 26 Pittsburgh, PA – Altar Bar
Nov 27 London, ON – Music Hall
Nov 28 Toronto, ON – Mod Club
Nov 29 Ottawa, ON – Mavericks
Nov 30 Montreal, QC – Club Soda
Dec 01 Quebec City, QC – Le Cercle
Dec 02 New York, NY – The Studio @ Webster Hall
Dec 03 Teaneck, NJ – Mexicali Live
Dec 04 Baltimore, MD – Soundstage
Dec 05 Atlanta, GA – Masquerade
Trollfest – Facebook  |  Trollfest – Bigcartel  |  Trollfest – Twitter