The third installment of The Monsters of Rock Cruise will take place from 29th March to 2nd April 2014.
Today sees the first bands announced, with some great new additions.
But have they done enough to justify the money it costs to go? Or are there too many repeat acts that will stop you booking your cabin right now?
For anyone that hasn't heard of it, the Monsters of Rock Cruise is a rock festival with a difference. Next year the luxury cruise liner MSC Davina will set sail from Miami for five nights, with around 50 bands and 3,000 fans onboard.
It's not the cheapest of events, especially for those of us on the the wrong side of the Atlantic, but having been on the last two I can tell you now it's worth every single penny. Keep an eye out soon, as I'll be bringing you my reasons why, but for now lets take a look at what bands you can expect to see next year.
'Fresh' from the sunset strip, the first band to be announced are Hollywood favourites RATT. 30 years after the release of their debut EP, they have announced this year that they will be working on a new album with all all surviving original members.
THE WINERY DOGS were next and you can be forgiven in not knowing who this band are, but shame on you if you've not heard of the members. This new 'supergroup' features the amazingly talented guitarist Richie Kotzen, the youngest member of the Drummer Hall of Fame, Mike Portnoy and Billy Sheehan on bass, who's worked with some of the biggest names out there. For a taste of what these have to offer, check out this video.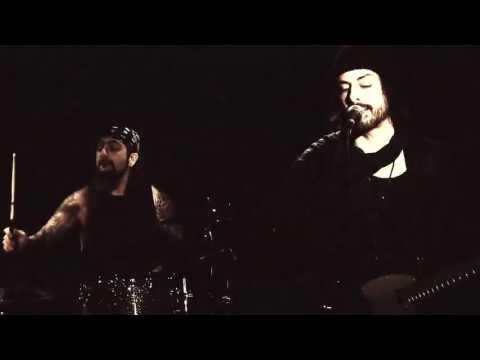 Next MORC announced two previous attendees in quick succession. First was KIX who have played both cruises before, and kicked some serious butt. As we were leaving Nassau this year, they played the sail-away concert and I'm not sure the residents of this small island knew what had just hit them. They all certainly needed a 'Cold Shower' afterwards.
The next returning band to be announced was FEMME FATALE who drove the men wild with their playful antics. The band is fronted by Lorraine Lewis who is definitely one of the only women to have survived the sleazy Hollywood days with her dignity firmly intact.
Back to some new blood who had not played the cruise before and we know for sure that MIKE TRAMP will be a very welcome addition to the party. Although he's released a number of solo albums to date, he's more widely known for his work in WHITE LION and FREAK OF NATURE.
The next announcement set the rumour mills going on Facebook as MR BIG's very own ERIC MARTIN was confirmed to be retuning to the ship of happiness. With band mate Billy Sheehan and former member Richie Kotzen already announced, could this also see a MR BIG set as well?
And on to another 'supergroup' with Led Zeppelin Tribute THE MOBY DICKS. They were the house band at Bonzo's Birthday Bash, the hugely successful John Bonham tribute concert on what would have been his 64th birthday. The band features Brian Tichy, Brent Woods, Chas West, Michael Devin, and Stephen Leblanc.
As the bands were being announced through their Facebook page, one by one over quite a long period of time, you could see people calling out a third return of the band that played both previous sail-away concerts. So the 'likes' quickly accumulated once TESLA were again confirmed.
THE QUIREBOYS will be performing for a second time, which is no surprise after such a successful return stateside. Cruiser Roxanne Lee summed up why:
WOW it keeps getting better and better ..this is probably the band that entertained, engaged the audience and blew me away the most as I had never seen them live. Wowwowoweeeeee..I dont think I can handle much more excitement today..I feel all giddy .
A slight twist as they announced an Icon Series was to come, kicking off with the legend that is CARL PALMER of ELO / Asia fame. Known as the drummer's drummer, he's no stranger to these kind of events as he played the sister festival this year 'Cruise To The Edge'.
After being glued to Facebook for what seems like an eternity, they waited another two hours to tease us on the next announcement of yet another return for FASTER PUSSYCAT. Even if you don't like their music, what you need to know is these boys sure know how to party and are good fun to have onboard.
This announcement was quickly followed by IRON MAIDENS joining in the fun, the female tribute to one of England's finest exports. And yes, they do have their own Eddie.
After their successful appearance in 2013, which included a stunning acoustic set on the beach in Coco Cay, GREAT WHITE are definitely welcomed back with open arms by the MORC Alumni, as are Y&T. There's something pretty special about watching them play 'Summertime Girls' on the top deck whilst at sea. And the returning bands keep coming as FIREHOUSE are confirmed to play for a second time.
Time to really 'Bang Your Head' now as QUIET RIOT get to pop their MORC cherry. This is a welcome addition and a band I always thought needed to be on this ship. There are of course lots of comments about this being a 'cover band' due to the current line-up, but to be fair they're one of those revolving door bands reminiscent of the 80s scene. And it would be impossible to bring back one of the founding members RANDY RHOADS, RIP. 
Oddly, in the middle of all the announcements L.A. GUNS posted a link to the MORC page, which got their fans thinking they would be back, but hope was quickly shattered when they posted:
Sadly no as yet we are not doing it, Its a shame we wanted to make up for pulling off as a three piece.
They almost missed the show this year and ended up playing as a three-piece due to guitarist Michael Grant failing to bring his passport.
And they weren't the only band to get their fans to try and coerce the organisers into booking them. DIO DISCIPLES also posted that they wanted their fans to drum up support in getting them back. A cause I fully support, in case Larry gets to read this. One of THE bands of 2013 for me.
So I guess that's two bands that we know won't be announced tonight.
But one man we know who will be making a very welcome return is JOHN CORABI. Alongside his stint in MOTLEY CRUE, John Corabi has definitely made a name for himself playing with some enviable names, but he has carved a real fan base on the Monsters of Rock Cruise. He's one of the most approachable and fun guys out of all of the bands and did an amazing job in stepping in when Tom Keifer pulled out at the last minute, even getting us all singing along to Rod Stewart.
So now it's time for them to focus on some acoustic announcements, with the return of the utterly amazing HEAVY MELLOW and cruise favourite RON KEEL. Ron has 'The RIght To Rock' so should need no further introduction, however Heavy Mellow are a band to get on your radar for something different. They play heavy metal covers on flamenco guitars and are top blokes too.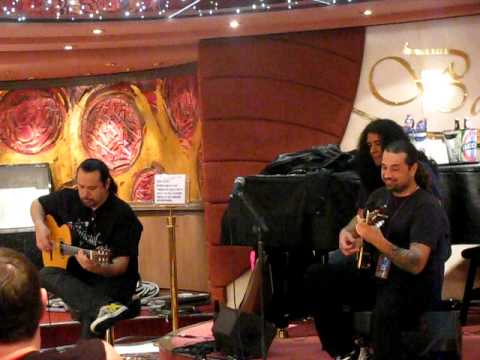 Finally it's time to announce someone new to the party, and one that I know a lot of people will be happy to see. WINGER will be embarking upon this epic journey with the original line-up.
Which leads us on to the final announcement of the evening. They are a band that have some unfinished business after their singer pulled out last minute this year due to illness. But CINDERELLA shall go to the ball and 2014 sees their third return to the cruise.
So that's it for tonight.
For MORC virgins, this is an amazing line-up, especially for rock fans in the UK who don't get to see these bands play. Byt for those of us who've been once or twice before, there are far to many repeats, especially with the bigger acts being exactly the same three years in a row.
Essential details like price or where the boat is sailing to have yet to be released, but I'm sure the information will be available very soon. To keep in touch, or book your cabin if you've attended before, head on over to http://monstersofrockcruise.com/.
The Monsters of Rock Cruise is far more than just another festival, so as much as the repeats are annoying, it will not stop me from 'Escaping To Monster Island'. But I am hoping the next announcement will have something a little fresher to add to the fun.